Canon MS800 Preowned
Large Format Microform Scanner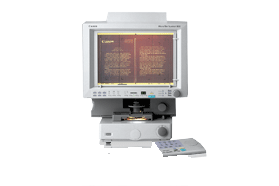 Full network connectivity plus flexible image transmission capabilities bring a new level of operational convenience to high performance digital microfilm scanning.
Product Description
Start with a wide-screen microfilm scanner capable of handling everything from checks to blueprints, newspapers, and more. But make it compact enough to fit on any desktop. Then raise the bar by pushing output resolution up to 600 dpi. And design it for high speed, simple operation, great versatility, easy connectivity, and fast throughput. While you're at it, make it affordable, too. You'd probably want to call it the perfect solution to your ever-expanding workgroup needs. Enquire Now!
Features
QUALITY right down to the smallest detail.
With up to 600 dpi resolution, the MS-800 sets new standards for image quality. Such high-resolution offers a wide range of enhanced printing and distribution capabilities, including laser printing and electronic image transmission. Ideal for financial institutions, the MS-800 brings greater efficiency to item processing. And it's an expert at meeting the demands of engineering applications which require large-format printing. The MS-800 further refines image quality with multiple scanning modes (Fine, Photo, Grayscale), plus Background Erasure and Automatic Exposure. The result is enhanced image data for a variety of applications.
COMPATIBILITY with virtually any film format.
Interchangeable film carriers enable the MS-800 to handle all types of microfilm applications. Compatible with 16mm/35mm open reels, 16mm cartridges, microfiche, jackets, and aperture cards, the MS-800 provides totally seamless support for every format.
PRODUCTIVITY soars for even the busiest workgroups.
Overall performance gets a boost from the high-speed MS-800. Requiring only about three seconds per image to scan letter-sized documents at standard dpi settings, the MS-800 excels at high-volume processing and media conversion. Even its built-in features accelerate performance – Automatic Size Detection, Automatic Negative/Positive Detection, and Automatic Skew Correction – all designed to make short work out of complex jobs. For high-volume batch processing, the MS-800 shifts into high gear, paired with Canon's FS Controller III, it delivers super-fast automated image retrieval.
CONNECTIVITY that simplifies every scanning function.
Included with the MS-800 is Canon's Scanning Utility 800, a robust driver compatible with Windows® 95/98 and Windows® NT 4.0. Offering four file formats, TIFF, BMP, JPEG, and JBIG, it gives users an intuitive, easy-to-use interface for controlling scanner settings. With the Scanning Utility 800, you can turn your Web browser into a scanning control centre – to imprint information on image data, or send scanned images directly to an online laser printer, without storing the images first. You'll even be able to send images electronically via fax, E-mail, the Internet, or Intranet.
VERSATILITY means more opportunities to enhance the way your business works.
Designed to work with the systems you have in place now, the MS-800 is also engineered to expand with any future configurations. Combined with the optional Canon FilePrint 470 laser printer, the MS-800 becomes a complete Digital Microprinter System – producing laser-quality prints up to ledger size without requiring a PC connection. Set in the special Overlay Mode, the MS-800 will scan both sides of items such as checks, then automatically re-position the images into a single, portrait-oriented data file.
CONVENIENCE is having easy-to-use controls right at hand …
Complementing the easy-to-read ledger-sized screen is a user-friendly control panel with many time-saving, one-touch features including Autofocus and Memory Zoom, plus Border Erasure for making clean printouts from negative film, Image Rotation, and an optional Framing Kit that allows you to designate a portion of a document for scanning. There are also six one-touch Function Keys for storing frequently-used control panel settings
… or right at your fingertips.
The MS-800 even has an optional Remote Keyboard, providing quick access to all primary controls on an independent keypad. Great for busy operators, it's an easy way to maximize throughput ergonomically and provides the convenience necessary for operators with disabilities.
image.SCAN
image.SCAN software makes Canon's Microfilm Scanners and Printers user friendly through every step of the scanning process, even for beginners, with an inviting, easy to use touch screen capable interface, and a choice of three languages.
Specifications
Type: Desktop digital microfilm reader/scanner
Film Formats: Universal with interchangeable carriers
Film Types: Both negative and positive images of silver or diazo 16mm, 35mm film, aperture cards and microfiche
Image Scanning:
Resolution: Up to 600 dots per inch
Scan Modes: B/W, B/W Fine, B/W Photo, Grayscale up to 256 levels*
Scan Sizes (US): 11″ x 17″, 11″ x 14″, 8.5″ x 11″, 8.5″ x 5.5″
Scan Positions: Centre, Left, Two consecutive pages
Scan Speed:
3 Seconds 8.5″ x 11″**
3.9 Seconds 11″ x 17″**
Scan Select: Trimming, Auto Border Erasure, Margin Setting
Interface: SCSI II and Video I/F Standard
Standard Features:
Auto Focus with Manual Override
Automatic Exposure with Manual Override
Motorized Zoom Lens with programmable memory keys
Motorized Image Rotation with Auto Skew Correction and Automatic 90 Degree Rotation
Automatic Bimode Sensing with Manual Override (N-P/P-P)
Automatic Border Erasure
Automatic Centering
Optics:
Lens Magnifications: 7-7.5X, 9-16X, 14-30X, 20-50X, 57X
Screen Size (H x W): 11.75″ x 17″ (300 mm x 435 mm)
Options:
Interchangeable Carriers
Remote Operation Keyboard
Framing Kit for trimming function
128MB RAM
Foot Switch (Scan/Print)
Workstation IV
Electrical Requirements: 120V AC, 60Hz, 4.5A
Dimensions: (H x W x D): 24″ x 30 x 24″ (612 mm x 760 mm x 600mm)
Weight: 104 lb. (approx. 47kg)
* 128mb RAM required
** Examples based on typical settings @ 200 dpi. Actual processing speeds may vary based on PC performance and application software.