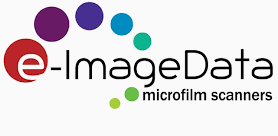 The Award-Winning, Low Cost Desktop Conversion Scanner for Roll Film and Fiche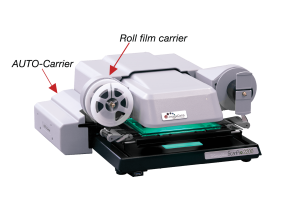 Welcome to the microfilm revolution! With the award-winning ScanPro® All-In-One™, you can easily read, scan print and convert your images with exceptional speed and accuracy – saving time and saving money. All current ScanPro models (includes the ScanPro i9300, ScanPro 3000 and the ScanPro 2200) can ship from the factory as an All-In-One conversion scanner for both roll film and fiche. Every ScanPro All-In-One model maintains all of the features and benefits of the model that has been selected for its desired requirements. In addition, with the presence a roll film carrier and the new AUTO-Carrier™, users are able to convert roll film and fiche automatically. Thus, making the All-In-One scanner the only desktop scanning solution for all film types.
The featured AUTO-Carrier allows users to automatically scan fiche. The AUTO-Carrier is operated entirely by on-screen controls. This allows users to move directly through fiche image-by-image, or anywhere on the fiche, with a single click. Moreover, the AUTO-Carrier can automatically scan a range of images, groups of images or the entire fiche, seamlessly and with unparalleled accuracy. In addition to its fiche-scanning capability, the All-In-One also includes a roll film carrier that when paired with the AUTO-Carrier, automatically scans roll film.
The new ScanPro® Advantage membership is included with the ScanPro All-In-One. The membership now includes not only the AUTO-Carrier software license but advanced software like AUTO-Scan® Pro that scans up to 100 images per minute, the ability to auto-adjust each scan for proper brightness, PowerScan Productivity Suite (OCR software) that provides the ability to save scans in many file formats and OCR while scanning and linking directly to a database for information look-ups. Being a member will also grant you full access to new features and performance enhancements as they become available – making your ScanPro the only scanner you will ever have to buy.
Request a Brochure or Enquire Now!
THE SCANPRO DIFFERENCE
Why choose a ScanPro All-In-One? There are many exceptional things we do that set us apart from our competition and make the ScanPro microfilm scanner the product of choice worldwide. Our mission is to provide the best microfilm equipment on the market and it is our commitment to continually bring the most innovative, state-of-the-art technology to our customers. Here are some of the exclusive highlights of our ScanPro All-In-Ones that no one else in the industry can deliver and we are proud to offer them to you.
Outstanding Capabilities
High speed desktop scanner for fiche and roll film
All current ScanPro models can ship from the factory as an All-In-One microfilm scanner
Why the ScanPro All-In-One Microfilm Scanner?
The ScanPro microfilm scanners are now available from the factory as affordable, high speed, desktop scanners- both as a conversion microfilm scanner and as an on-demand reader/scanner/printer for all film types including fiche, 16mm open spool, 16mm cartridge film, 35mm roll film, ultra fiche, micro opaque cards, and aperture cards. And, utilizing the new, updated AUTO-Scan Pro software, the ScanPro microfilm scanners can scan at 100 images per minute with exceptional accuracy. With the ScanPro All-In-One, you can scan your film onsite in the security of your own business whenever it is convenient and right on your own desktop. And, the All-In-One microfilm scanners are exceptionally affordable.
Every ScanPro All-In-One starts with all of the specifications and features of a customer selected ScanPro and then adds an AUTO-Carrier and a roll film carrier to become an All-In-One microfilm scanner. The All-In-One models start with the budget friendly ScanPro 2200, follow by the top-of-line ScanPro 3000 and the specialty ScanPro i9300 blip index search microfilm scanner.
How to select an All-In-One for your application?
It starts with how you want to use the All-In-One for your film scanning applications and then selecting which model ScanPro has the features and capabilities that meet those requirements. With that in mind, review the Product Specs tab for each ScanPro model to determine what features are available (the Product Specs are on the home page for each model). The Specs Tab is an up-to-date listing of all current specifications for that model and also identifies which options are available for that model.
If you still have questions, contact your reseller or let us know how we can help you. NOTE: Every ScanPro All-In-One includes an AUTO-Carrier which requires a ScanPro Advantage membership that includes an annual license key subscription.
FEATURES & BENEFITS
Any of the current ScanPro models ordered from the factory with an AUTO-Carrier is shipped ready for on-site installation
With the exception of the ScanPro 1000, any ScanPro model in the field can be upgraded on-site to include an AUTO-Carrier (depending on the model, an upgrade kit may be required)
AUTO-Carrier requires a ScanPro Advantage Membership. It is a yearly fee of US$249 and the first six months is free.
User Interface: Intuitive Windows computer interface; simple and easy-to-use
Step-by-step graphic animations for the operator provides easy to use startup instructions
Programmable film selection Wizard to recall job presets for quick and easy job setup for any application
Scannable Media: Fiche, Jackets 16mm roll film, 35mm roll film, cartridge film, aperture cards, micro opaques
Carriers (optional):16/35 roll film, 16/35/M roll film & cartridge
NOTE: AUTO scanning on a ScanPro 2200 requires an installed AUTO-Carrier
AUTO-Scan® (included standard): Automatically Scans roll filmb and fichec
– Straighten/Crop, Straighten, Set Brightness
– File types: PDF, TIFF, JPEG and more
– Unlimited scans, up to 20 images per minute (IPM) roll filmb and fichec (forward or reverse)
AUTO-Scan® Pro (Included with ScanPro Advantage Membership): Automatically scans roll filmb at 55 IPM without
AUTO-Carrier™, scans roll-filmb & fichec at 100 IPM with AUTO-Carrier
– Auto-Brightness, Straighten/Crop, Straighten, Duplex Film, Forward and Reverse, Set Brightness
– File types: PDF, PDF/A & TIFF, single and multi-page, without and with OCRd, JPEG, and more
– Unlimited scans, up to 100 IPM roll filmbc & fichec, forward or reverse (with AUTO-Carrier)
PRODUCT INFORMATION
Desktop All-In-One Operating Footprint (H x W x L)
7.4in x 17in x 18in / 19cm x 42.5cm x 45.5cm
Operating Systems
Versions, 32 and 64 bit: Win 7 to Win 10; Editions: Enterprise, Professional, Home
Interface
USB 3.1 Gen1 (also called USB 3.0)
Weight
32lb / 14.5kg
Power
100-240VAC 50/60Hz
Film Path
Straight film path (film not pulled across glass edges) & low inertia 12 ball bearing design protects film
Energy Efficiency
ENERGY STAR® Certified
Product Safety
OSHA workplace safety certified to US/CA standards
Scanner & RF Carrier
3-year factory warranty (includes carriers)